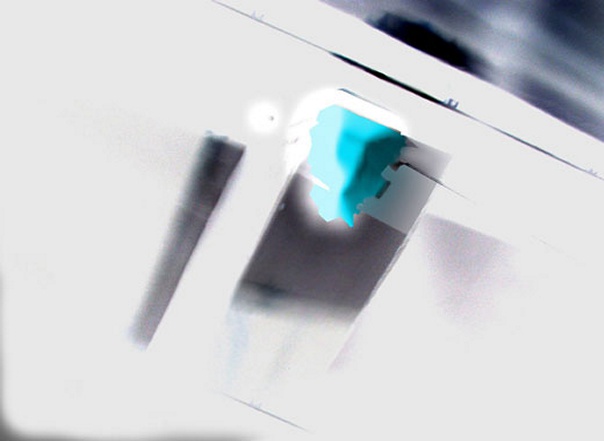 ORIGINAL SOURCE: Trancolskeya J., Davisky M.(1959) Dark-Stripe formations in achromatically-focused reunion functions. National Science Journal of Kalinskeya-5, 11, 45-58.
Contrarily called 'Dark Stripe' bi-sectional strand leaners, this figure first appeared in The National Science Journal of Kalinskeya-5, a locally-produced publication from an illegal research laboratory in the basement of a Siberian nuclear power station during the Cold War. Although the discovery of the lab's existence triggered the dismissal, and banishment to Moscow, of the lab's now-famous director Jan Trancolskeya (best known for his keyboard work with the Moscow Jazz Quartet) the authorities tolerated Kalinskeya 5 because of the quality of work which emerged from the limited facilities available there, and the international kudos it gained, despite repeated attempts to suppress it. 'Dark Stripe' leaners were achromatically focused and hence their apparent pale appearance. The name 'Dark Stripe' arose from the affectionate nickname other researchers had for Trancolskeya who worked stripped to the waste in the basement lab, which adjoined the (coal-powered) boiler room for the entire settlement (pop. 2434), after overhearing a female colleague remark on the pattern of hair on his lower torso.
Trancolskeya, now his early 80s records for Blue Note - see A Kind of Boom, Blue Note (1995) now deleted from the Blue Note catalogue but sometimes to be found on East European auction sites. Be warned, though, these discs have in recent years become very popular with Russia's wealthy elite, so be prepared to compete at a very high price point for some of 2Trancolskeya's rarer improvisations.